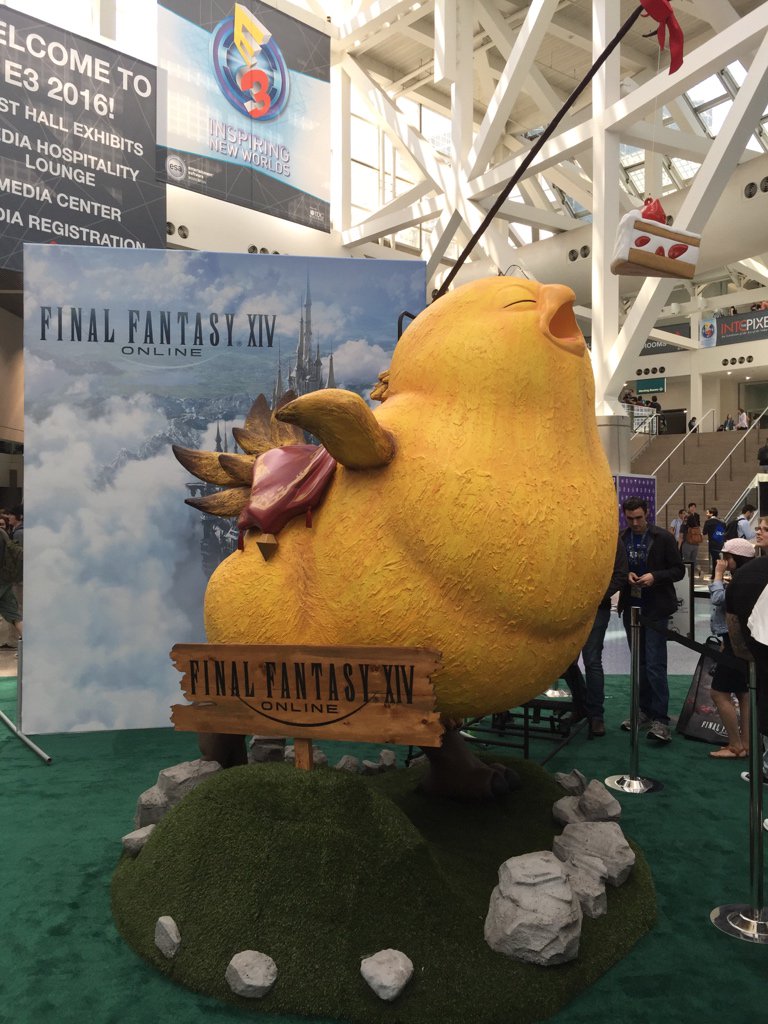 This year marked several significant changes for the Electronic Entertainment Expo (E3). The most obvious is that Activision Blizzard and Electronic Arts both chose to leave the show floor, just maintaining the usual second-floor conference rooms for meetings. Their games could be found on the show floor in Sony and Microsoft's booths, but the massive presence those two major publishers usually had at E3 was completely gone. EA instead hosted the EA Play events (next door to the convention center, and a simultaneous one in London) where they brought players together with creators and celebrities to play some of their upcoming games.
E3 reported it had 3.6% fewer attendees this year, around 50,000 in all. They staged an event called EA Live in the parking lot next to the convention, giving out 20,000 free tickets. Apparently, though, this was
a big disappointment
; it was an area about the size of two tennis courts, mostly selling merchandise and barely any games. Fans felt liked they'd been duped; they'd been led to believe this was like E3, and of course it was nothing like being inside the halls. While E3 seems to understand that going direct to consumers is the future, this was not the way to do it.
E3 now has all its major media events streamed, and Twitch has a studio on the show floor with continuous programming during show hours. Essentially, all you get from actually being at the show is the chance to go hands-on with games, and to have in-person meetings. As far as getting time with games, you will have some problems with that unless you are a VIP or a member of the media. The line to play the new Zelda game was reportedly as much as eight hours long... or the entire time the expo floor was open one day.
Business meetings are something that benefits from personal contact, so E3's value in that area isn't going to change. The other reasons for the show – generating media coverage, generating excitement and social media amongst fans – those can and are being done more effectively in other ways. E3's value is dropping, and that's clear by what Activision and EA have done. Essentially, those two companies said "we can take the resources we'd spend on E3 and get a better return spending it elsewhere." Other large companies will probably be making that calculation in the coming years. For smaller companies, E3 is a good place to be because of the sheer volume attention directed to the show, which can spill over onto smaller companies. However, that will be less and less true as larger companies depart – less attention to the show, less attention to smaller companies, less reason for them to appear.
There are also other places to get significant attention. Gamescom, with its 340,000 attendees, is already running a trade show during the same week as Gamescom that attracts almost as many people as E3. Other consumer shows like PAX and San Diego ComicCon and many smaller ones are also packed with consumers. That's not even considering streamers and YouTubers and other ways of connecting with an audience.
I predict E3 will continue to try out new tactics in order to remain relevant, but it will probably continue its decline as both console games and retail sales are no longer the core of the games industry. Moreover, there are better conventions for companies that want to maximize audience influence with consumers. E3 will probably continue to shrink in size and influence, though I think there's a reasonable chance that (at some point) the ESA will decide to make some radical change – possibly a reduction to a more business-oriented conference without the huge exhibit floor. Or the ESA may decide to go large and make it a huge consumer show... but that would definitely have to be at a different venue. I think all options are on the table, and it's hard to predict what might happen beyond the next couple of years where E3 has a contract for the LACC. What, if any, contract E3 signs next will be very telling about how they view the future.