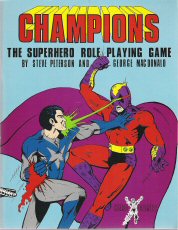 I get an excuse to show my game from the dawn of time.
I've dealt with other segments of the gaming market, so I might as well have a go at this one. Adventure gaming is in many ways the progenitor of the electronic gaming market, and is still a rich source of inspiration to electronic game designers. Roleplaying games, card games, board games, miniatures games and other less easily classifiable games are found in specialty gaming stores around the country, and some products make it into wider distribution through bookstores or other types of stores. Occasionally a product like the Pokemon trading card game breaks into wider mass-market distribution, but for the most part adventure gaming products are in limited distribution.
The industry has had its ups and downs over the past few decades. Once a sleepy little backwater of miniature games and war games, adventure gaming had its first big expansion when roleplaying hit with the introduction of
Dungeons & Dragons
in 1974. The concept took off and hundreds of products followed over the next decade (including my own roleplaying game
Champions
). Roleplaying was a phenomenon that got national attention, until the growth of electronic gaming (mostly computer gaming) in the 1980s took away some of its audience.
The next great expansion was the trading card game (TCG), which was led by Magic: The Gathering in 1993. Again, the phenomenon burst across the national consciousness, new stores opened, and many companies expanded (including Wizards of the Coast). Collectible miniatures games introduced in 2000 (HeroClix) was another boomlet, though not to the scale of the TCG.
The industry now is smaller than it was in days of yore (that would be the ancient times of the '80s and '90s). Much of the mojo (read: entertainment time and dollars) has been stolen by electronic games of all varieties. Still, there's great creativity in the adventure game industry and new products continue to attract buyers.
Publishers find more and more revenue coming from e-book sales. The e-book segment has grown tremendously, as witnessed by DriveThruRPG.com. (I believe I was the first to put e-books into a retail store, on a floppy disk in Acrobat 2.0 format in 1995.) E-books have become much more acceptable as a format, especially with inexpensive laptops and now tablets making it easier to use them in a gaming session. The major problem is the pricing; most adventure game publishers still price e-book versions of their rules quite high, which means piracy is an issue. Since many adventure game publishers depend on physical book sales, they are loath to reduce prices on e-books and so make it harder to be profitable on paper versions of the same book. I predict we'll see more experiments with lower e-book pricing, and greater e-book sales overall.
The number of retail stores continues to shrink. Game stores are an endangered species, and increasing electronic distribution is part of the reason. Bookstores are also endangered, and the combination will drive adventure game sales even more towards mail-order, convention sales, and electronic sales. The rate of attrition will slow, as surviving retailers are (by necessity) good ones, and are adept at finding ways to bring in customers and offering a variety of goods for sale. In-store gaming is a big help, as are miniatures games.
The explosion of e-book readers will be good for adventure gaming. Not just dedicated e-readers like Kindle, but also tablets and smartphones. If prices are reasonable, then all the players can have easy access to rules without lugging around huge books. More e-book readers means more willingness to buy e-book versions of rules, or at least a larger potential customer base.
The growth of smartphones will be good for adventure gaming. Not just because they can be used to read e-books (not well, unless rules are formatted especially for them... which would be a great feature that some publisher is going to stumble upon someday). Smartphones are also handy little computers, as witness the number of die-rolling programs out there. Many other aspects of gaming can be aided by smartphones... and we'll see more of that this year.
Adventure game companies will increasingly turn to technology. By necessity, adventure game companies have embraced the Internet as an easy way to communicate with customers. Now Facebook is a becoming a very important tool for customer relations. Twitter is everywhere. Social media is great for marketing purposes, and for connecting a farflung network of fans. I think we'll see more connections with social gaming and mobile gaming... many small games would make great smartphone apps, and some of Reiner Knizia's games are making their way to Facebook. We'll see more of this...
Adventure gaming will have another bumpy year, as new technologies continue to disrupt the same old way of doing business. Companies that take advantage of the trends will continue to do well; others, not so well.